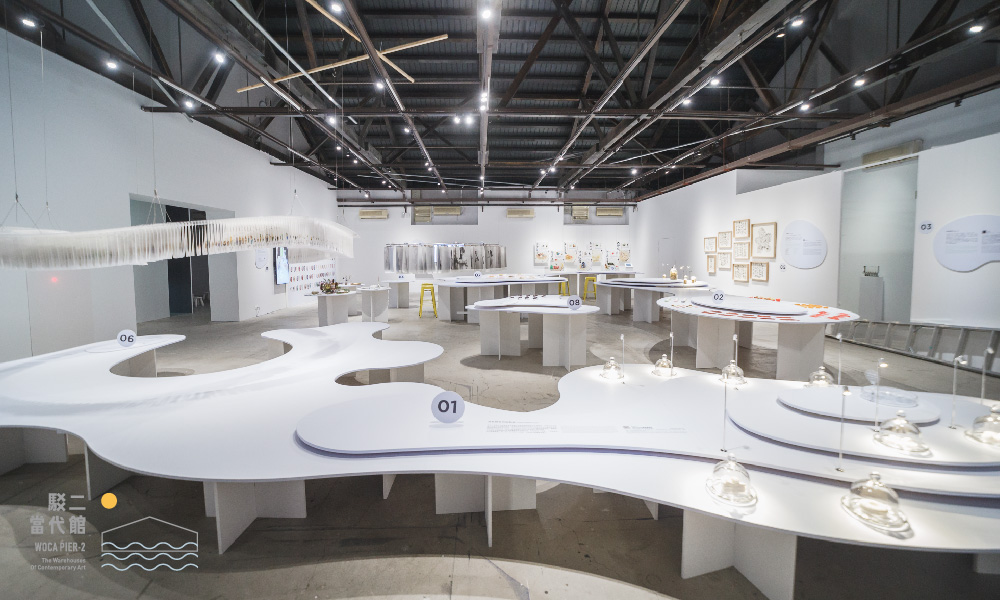 WOCA PIER-2
WOCA Pier-2 is not just an exhibition hall, but a brand that embodies Pier-2's spirit for contemporary art exhibitions and performances.
In recent years, Pier-2 has made history in time-honored buildings and continues to engage in the modern dialect in a contemporary manner. The art content in Pier-2 is not just thematically diverse but is also closely linked to issues in daily living with an effort to make Pier-2 truly an art center for everyone. With the same attitude, WOCA follows the trend of warehouse reused by holding exhibitions that reflect the statements and collective experience of contemporary visual culture to bridge the gap between art and the public. This also sets WOCA apart from its counterparts that might use warehouse spaces for commercial purposes.
WOCA's contemporariness is ongoing, ever being written, ever-expanding, and ever-adjusting. It holds onto a cross-boundary stance, storytelling expressions, and issue analysis in curating exhibitions/performances that encompass contemporary art, anime/manga culture, performance art, sound art, crafts, cultural and creative design, site-specific creation, and so on. WOCA's long-term dedication can be witnessed in 1. large-scale events that have taken place over the years, including the Kaohsiung Design Festival, Youth Innovative Design Festival, Kaohsiung International Steel & Iron Sculpture Festival, Young Art Kaohsiung, and Pier-2 Art Center Anime Festival, and 2. thematic exhibitions held at The Memories of Pier-2 Warehouses, C5, and C7 Warehouses.
Since 2015, through Pier-2 Artist in Residence Program (PAIR), short-term creative projects by one group of artists after another have realized a global vision and facilitated the interaction, exchange, and growth of artists at home and abroad. The program has also allowed WOCA to explore visual culture from the perspective of humanity's collective experience, and raised Pier-2's exhibitions and performances a notch, marking a milestone for Kaohsiung City to march into the international art community.
Through art, Pier-2 has opened the doors of the forgotten warehouses to the public, giving a new identity and new missions to these gray buildings adjacent to the Port of Kaohsiung's Basin No.3 and the former freight railway West Harbor Line. Each of the many gray-box-like warehouses is replete with cultural memories of the new and the old. As such memories flow and change with space and time, they have constructed WOCA's unique aesthetics, WOCA Gray. WOCA goes beyond the given viewpoint of Black Box and White Cube and considers its curation strategies based on local environmental characteristics. As a gray tone psychologically suggests tolerance and possibility, WOCA uses spaces under a "gray box" aesthetics. Such a cross implied by gray breaks the frames of the inside/outside (of the venue), art museum/alternative space, gallery/public sphere, etc. A boundaryless art network that emphasizes visitors' experiences in exhibitions and invites the public to take part has therefore been established, in which scholarly art becomes easier for one to understand, and visitors can set their imagination free with inspirations from artists of all fields.
Note: WOCA is the abbreviation of "the Warehouses of Contemporary Art."
A.C.G.N Warehouse
As its name suggests, "A.C.G.N" warehouse is an exhibition space for animation, comics, game, and light novel . Regular exhibitions are curated for different topics to present the diversity of ACGN creativity and the innovative potential of Taiwan's animations and comics. As an open creative platform for artists, this venue opens up opportunities for cross-field collaborations among animation and comics creators, especially for young and aspiring Taiwanese creators who are eager to highlight local cultures and draw everyone's attention to contemporary social phenomena and issues.